Timeline
MAY 2013
Kenmore sand & gravel pit ceases operation after 60 years of use
AUGUST 2014
Restoration of the quarry begins
DECEMBER 2014
Planning permission granted for Balloch Park and work begins
JANUARY 2015
Scrub removed and tidying around the edges ready for the comprehensive tree planting scheme
JULY 2015
The site is finally levelled and looking really good
SEPTEMBER 2015
The first jobs for our newly purchased digger and dumper
NOVEMBER 2015
We have electricity! The metre shed getting built
MARCH 2016
The boys starting the tree planting. Only 2500 to go...
APRIL 2016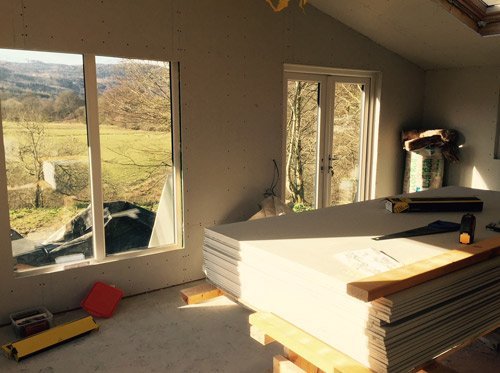 The "show" lodge nearing completion. What a setting
MAY 2016
Breaking ground. Starting to dig the service tracks
JUNE 2016
The completed "show" lodge sitting nicely
JULY 2016
Drains, water, gas...no leaks thankfully!
AUGUST 2016
Preparing the foundation for our first lodge sold
SEPTEMBER 2016
A nice spot for the boys to be working
OCTOBER 2016
Making progress first 3 bedroomed lodge sold... what a view!
NOVEMBER 2016
Nearing completion, stove installed
FEBRUARY 2017
Our first owners move in
JUNE 2017
First 2 bedroomed lodge complete and keys handed over to the new owners
NOVEMBER 2017
3rd lodge (3 bedroomed) nearly complete. 3 more to go this winter!
DECEMBER 2017
3 bedroom lodge now sold! Lots more to build...
JANUARY 2018
Weather delay – we will not be pouring concrete this month!
FEBRUARY 2018
Weather window – one foundation laid and two more to go!
MARCH 2018
Lots of activity on Balloch Park, Phase 1, 50% now sold.
APRIL 2018
A lovely spring day for the builders
MAY 2018
The first "buy to invest" really taking shape
JUNE 2018
Next lodge near in completion… spacious, light and airy
SEPTEMBER 2018
Our first buy to holiday let lodge now complete and ready for our first guests!
NOVEMBER 2018
Our first guests stayed and enjoyed the autumn colours
JANUARY 2019
Getting the roofs on before the snow comes
MARCH 2019
Delighted to welcome the new owners to this gorgeous lodge who have made Balloch Park their new home.
MAY 2019
Two more nearly complete. Lovely time to re-visit.
JUNE 2019
Another luxury 3 bedroom lodge to rent out, with hot tub
NOVEMBER 2019
Tay Lodge, sleep 6 with real log fire can now be rented too!
MARCH 2020
Final 2 plots left in phase 1
MARCH 2020
Ground works for phase 2 has begun
OCTOBER 2020
Balloch Park looking stunning in the Autumn sun.
OCTOBER 2020
Rowan lodge a stunning 3 bedroom lodge with hot tub joins the portfolio.
NOVEMBER 2020
Our 6th and final phase 1 self-catering lodge is complete.
JANUARY 2021
Newest riverside lodge completed
MAY 2021
Concrete bases completed for all phase 2 plots
NOVEMBER 2021
1st phase 2 property added to the letting portfolio. Fionn Lodge is stunning sleep 6 lodge with gas effect fire, hot tub and a 2 man sauna!
JANUARY 2022
Front row of phase 2 completed
MARCH 2022
Newest lodge under construction
MARCH 2022
Phase 2 looking amazing in the spring sunshine.